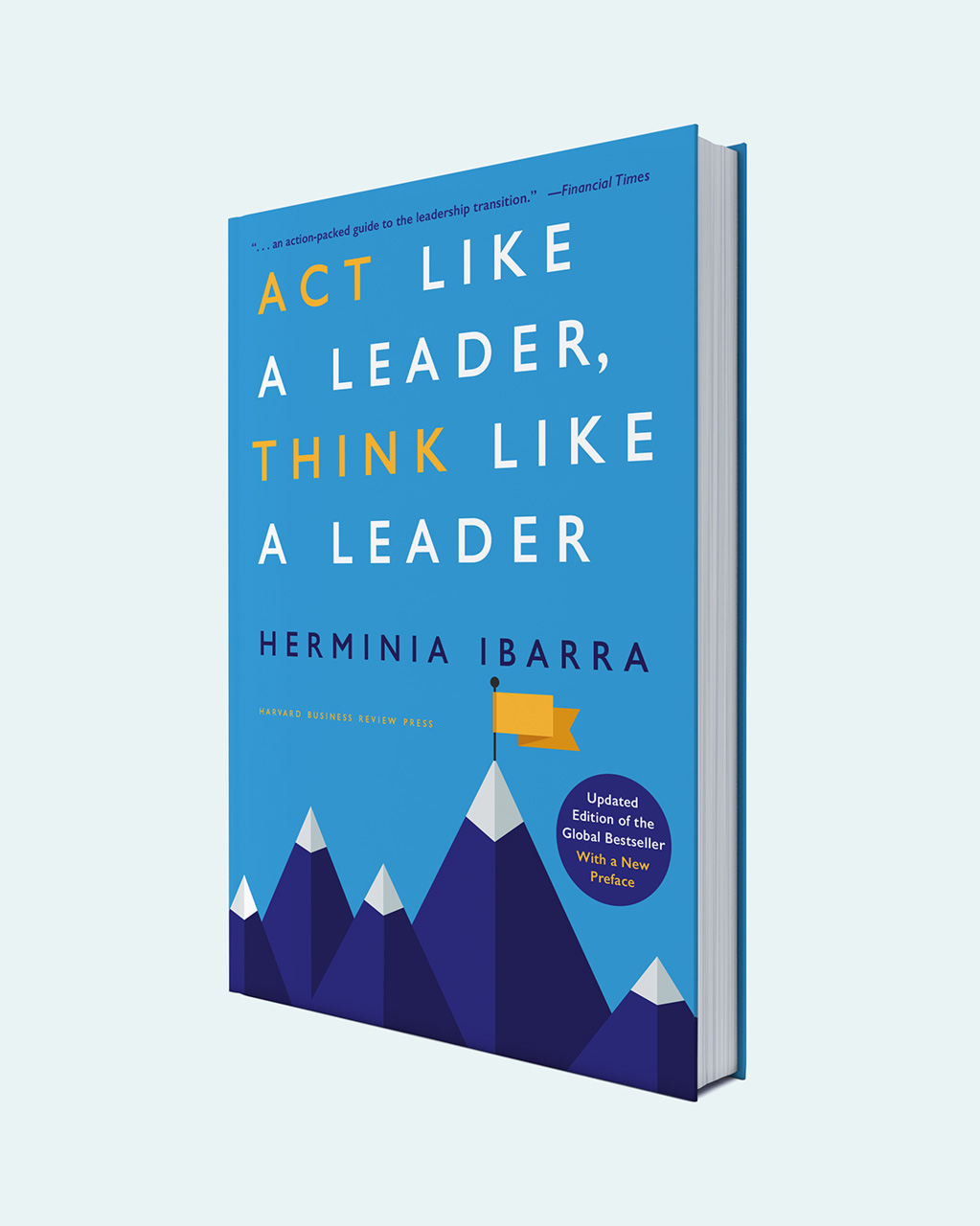 Act Like a Leader, Think Like a Leader
Second and updated edition
Harvard Business Review Press
You aspire to lead with greater impact
The problem is you're busy executing on today's demands. You know you have to carve out time from your day job to build your leadership skills, but it's easy to let immediate problems and old mindsets get in the way. Herminia Ibarra — an expert on leadership and career development and a renowned professor at the London Business School — shows how managers and executives at all levels can step up to leadership by making small but crucial changes in their jobs, their networks, and themselves. In her newly updated Act Like a Leader, Think Like a Leader, she offers advice to help you:
Redefine your job in order to make more strategic contributions
Extend your network so that you connect to, and learn from, a bigger range of stakeholders
Become more playful with your self-concept, allowing your familiar — and possibly outdated — leadership style to evolve
Ibarra turns the usual 'think first and then act' philosophy on its head by arguing that doing these three things will help you learn through action and will increase what she calls your outsight — the valuable external perspective you gain from direct experiences and experimentation. As opposed to insight, outsight will then help change the way you think as a leader: about what kind of work is important; how you should invest your time; why and which relationships matter in informing and supporting your leadership; and, ultimately, who you want to become.
Packed with self-assessments and practical advice to help define your most pressing leadership challenges, this updated version of the international bestseller and Axiom Business Book Award winner will help you devise a plan of action to become a better leader and move your career to the next level.
It's time to learn by doing.
"Have you had it with navel-gazing? In this terrific book, Herminia Ibarra offers the antidote. She reframes the leader's quest as a process of looking outward, rather than inward, for direction, development, and opportunity. Her conclusions — her 'outsights'— come from careful observation and current research and include smart, practical suggestions for expanding your leadership opportunities."
Best-selling author of #1 New York Times best-sellers Drive and To Sell is Human
"Herminia Ibarra has created a valuable and successful model for helping forward-thinking professionals move up the corporate ladder. She has created a vivid road map for achieving career growth based on 'learn while doing.' I'd encourage every professional looking to get to the next level to read this book!"
Dr Marshall is the Thinkers50 #1 Executive Coach and New York Times best-selling author of The Earned Life, Triggers and What Got You Here Won't Get You There
"In today's increasingly volatile and uncertain world, leadership is more important than ever. But new skills are required. This intelligent and thought-provoking book is for those who really want to make a difference — those willing to act their way into leadership situations they might previously have thought themselves out of."
"Modern business requires us to lead differently, yet conventional approaches to gaining new leadership skills have proven less than effective. Fortunately, in Act Like a Leader, Think Like a Leader, Herminia Ibarra provides us with a wonderfully practical way of taking control of our own leadership transformation."
Co-Chair, IDEO; author of Change by Design
"Based on Herminia Ibarra's extensive research and experience working with executives, Act Like a Leader, Think Like a Leader provides insightful and practical advice about how to do the hardest thing of all — change ourselves. By acting, as opposed to thinking, we can all become better leaders."
Wallace Brett Donham Professor of Business Administration, Harvard Business School
"With vivid examples and thought-provoking research, Ibarra takes future leaders beyond the normal platitudes to a deeper and richer understanding of what it is to become a better leader. Her action-orientated approach, profound understanding of networks, and wisdom about identity deliver a book that will change the way we think about the transition to leadership."
Professor of Management Practice, London Business School; best-selling author of The 100 Year Life and Redesigning Work
Working Identity: Unconventional Strategies for Reinventing Your Career
Nearly all of us have entertained the notion of reinventing ourselves. Feeling unfulfilled, burned out, or just plain unhappy with what we're doing, we long to make that leap into the unknown. In this powerful book, Herminia presents a new model for career reinvention that flies in the face of everything we've learned from 'career experts'.