Despite quotas, there's rough road ahead for women in Europe
"It's done," said European Commissioner Viviane Reding today. "The Commission has adopted my proposal for a European law so that women represent 40% of company board members by 2020."
Reding has often repeated, "I don't like quotas, but I like what they do." A controversial measure, hotly contested by a number of European countries and pundits on both sides of the Atlantic, the new law will come up against deeply entrenched assumptions about gender roles and divided opinions about the best way to increase the uncontested penury of women at the top of business organizations.
To understand the depth of the cultural divide, all it takes is a look around us. Yesterday, in the Paris metro I was astonished to see the following billboard advertisement for Carrefour, France's Walmart and #32 on the Fortune 500. The picture shows a housewife carrying a full laundry hamper, kids at her heels. She says, "My children, my husband…and whew, my groceries delivered by ooshop.com"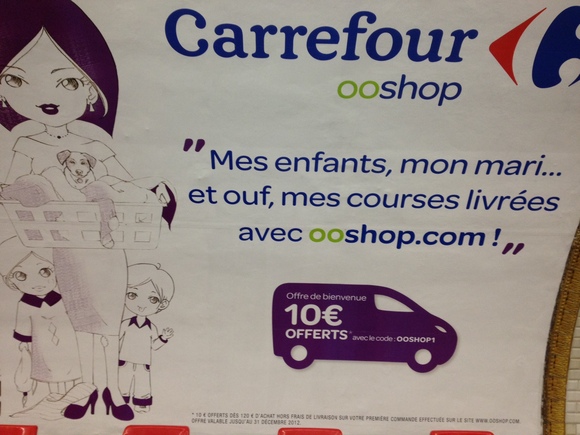 Men and women alike are products of the cultural environment in which we live and work. A few weeks ago, for example, I heard the CEO of a FTSE 100 firm speak at an event to promote women on boards. With growing dismay, I heard him tell the very senior women gathered that adding a woman to a top team won't increase diversity if she 'acts like a man'. "Please don't lose your femininity," he urged, before he also cautioned them that they might be biting off more than they could chew by adding a board appointment to an already full work-family schedule.
And, of course, we all remember Deutsche Bank's CEO Josef Ackermann's infamous remark that appointing more women to the company's board would make it 'prettier and more colorful'.
In 2010, with Saadia Zahidi of the World Economic Forum, we surveyed 600 heads of human resources at the world's largest employers in 20 countries. We asked them to identify what they saw as the biggest barriers to women's access to leadership positions. The top two factors, far ahead of flexible work and work-life balance policies, were 'general norms and cultural practices in my country' and 'masculine/patriarchal corporate culture'.
We all know that cultural attitudes are probably the hardest thing to change. On how to do it, I subscribe to the view most eloquently stated by management guru Richard Pascale: "Adults are more likely to act their way into a new way of thinking than to think their way into a new way of acting." That's why I agree with Viviane Reding when she says, "I don't like quotas, but I like what they do."
Why career transition is so hard. And how to manage it better.
The accelerated pace of technological change and, most recently, the advent of AI are reshaping jobs and organizations in ways that call for constant career reinvention. So we all need to learn how to get better at making the most of the frequent transitions that will constitute a long working life.