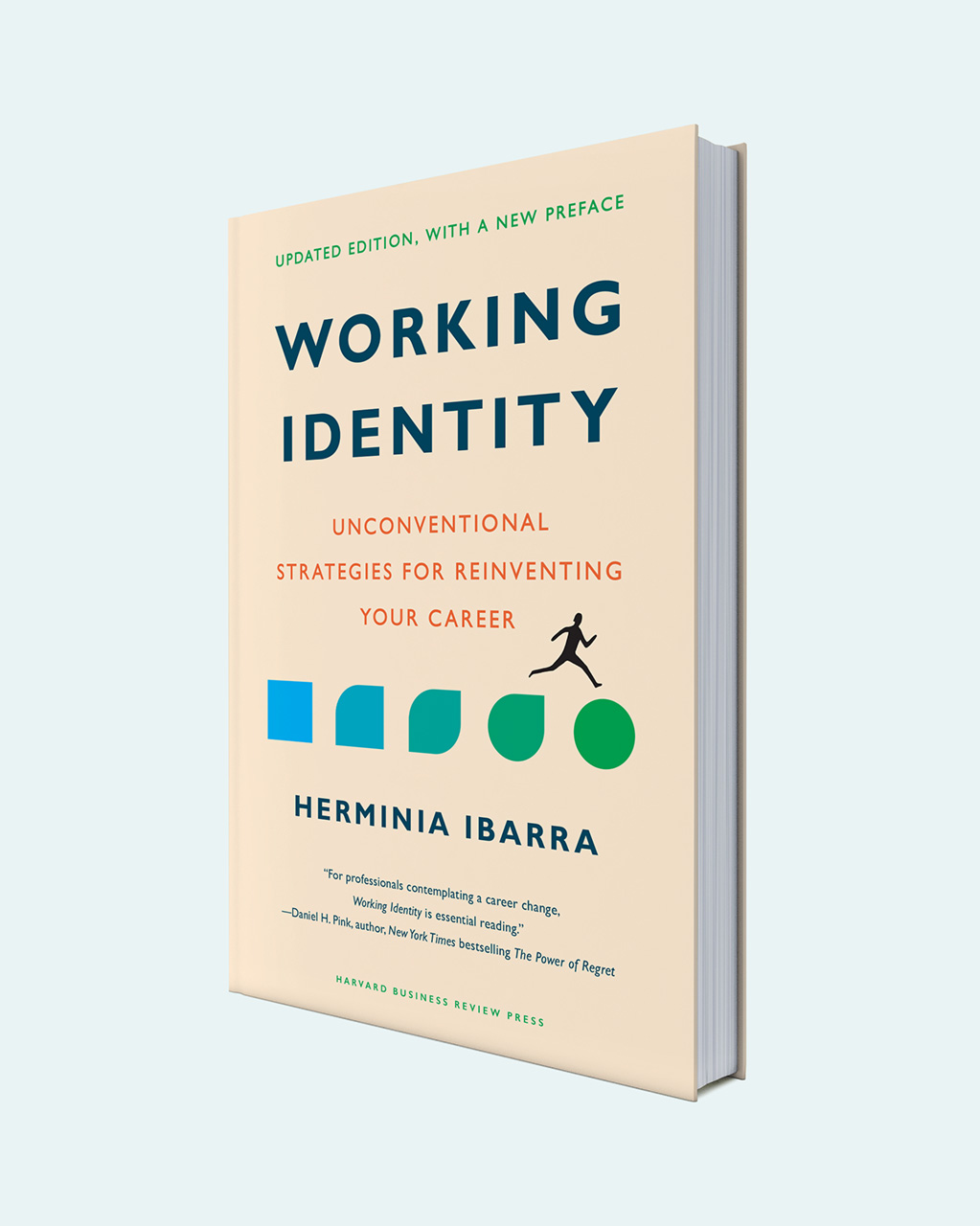 Working Identity: Unconventional Strategies for Reinventing Your Career
Second and updated edition
Harvard Business Review Press
Whether as a daydream or a spoken desire, nearly all of us have entertained the notion of reinventing ourselves. Feeling unfulfilled, burned out, or just plain unhappy with what we're doing, we long to make that leap into the unknown. In this powerful book, Herminia presents a new model for career reinvention that flies in the face of everything we've learned from 'career experts'. While common wisdom holds that we must first know what we want to do before we can act, Ibarra argues that this advice is backward. Knowing, she says, is the result of doing and experimenting.
Based on her in-depth research on professionals and managers in transition, Ibarra outlines an active process of career reinvention that leverages three ways of 'working identity': experimenting with new professional activities, interacting in new networks of people, and making sense of what is happening to us in light of emerging possibilities. Through engrossing stories, Ibarra reveals a set of guidelines that all successful reinventions share. She explores specific ways that hopeful career changers of any background can.
A call to the dreamer in each of us, Working Identity explores the process for crafting a more fulfilling future.
"Whether you're mid-career or just starting out, Herminia Ibarra's masterpiece provides wise advice and compelling stories to help you find and change your path for greater fulfillment in work and in life. I don't have to predict that this book will become a classic. It already has. Well ahead of its time when first published, Working Identity now finds its sweet spot of ultra-relevance in our tumultuous era of career searching and pivoting."
Professor, Harvard Business School; author of Right Kind of Wrong: The Science of Failing Well
"Herminia Ibarra is the world's leading expert in career transitions, and a rare beacon of sanity in a world saturated by either improvised or obvious advice. This new edition of her classic Working Identity book is essential reading for anyone wishing to re-invent their career, in an age where most of us ought to be thinking of precisely that. Packed with counterintuitive and practical insights, which are actually backed by science, this is a must-read book for anyone interested in either understanding the real-world dynamics shaping career transitions, or wishing to re-invent themselves. Actually, the two are not mutually exclusive!"
Professor Tomas Chamorro-Premuzic
Chief Talent Scientist at Manpower Group and author of I, Human: AI, Automation, and the Quest to Reclaim What Makes Us Unique
"As someone who has changed professional paths several times, Working Identity spoke to me in a way that no other business book ever has. With a deft combination of story and science, Ibarra both debunks a portion of popular wisdom and demystifies the process of work transition. I've probably recommended this book more frequently than any other, including my own."
"Working Identity's second edition comes at a critical time for the workforce, providing insights and practical advice for career transitions in a new age of technology and opportunity. Whether you're looking to switch industries, start your own business, or find a more fulfilling role within your current organization, this is the book you need to start your change today."
Thinkers50 #1 executive coach and New York Times best-selling author of The Earned Life, Triggers and What Got You Here Won't Get You There
"Herminia Ibarra's groundbreaking Working Identity continues to defy and disrupt conventional wisdom around career change. Even more relevant than it was two decades ago, this book is a gem for anyone who wants something more. Simply brilliant."
CEO of Disruption Advisors, Thinkers50 Top 10 Management Thinker, Wall Street Journal best-selling author of Smart Growth: How to Grow Your People to Grow Your Company
"Sophisticated and savvy, Herminia Ibarra's timeless book challenges much of the conventional wisdom about how and why people change careers, and illuminates the experimentation, struggle and joy that are essential to the process. For professionals contemplating a career change, Working Identity is essential reading."
Best-selling author, of #1 New York Times best-sellers Drive and To Sell is Human
"Working Identity has been one of my top business books and now the updated insights about transitions are even more important and profound. There has never been a better time to understand career transitions, and there has never been a better author to help us navigate these transitions."
Professor of Management Practice, London Business School; author of Redesigning Work and co-author of The 100 Year Life
"I have taught thousands of business leaders over the decades, recommending Working Identity countless times, and seeing it help so many people – this wonderful book WORKS! Herminia's scholarship is serious, the book is deeply grounded in global research of the highest quality – but that is mostly hidden. What we read is accessible, humane, real, and energising. Give it to yourself, and to those you care for."
Co-founder, Meyler Campbell, and author of the Financial Times Guide to Business Coaching
"With so much 'coming at' leaders we have to be on a journey of reinventing ourselves, evolving our identities is core to that. I've had the opportunity to support and witness so many chairs, CEOs and executives through transitions and I've taken Herminia's advice personally and in my coaching. Her advice is so fundamental and yet so practical. Thank you Herminia!"
Senior Advisor and former Chairwoman, Egon Zhender
"Ibarra has done it again. This book is more than a new edition of Working Identity. Her new work addresses career change for people at all ages and stages in these radically changing times. Ibarra has included a valuable set of exercises and tools at that end of each chapter, allowing the reader to delve further into their working identity. A must read for anyone exploring their career identity in today's world."
CEO, Hudson Institute of Coaching
Act Like a Leader, Think Like a Leader
In this unconventional book, Herminia provides the first practical guide on how to change when you also need to lead. Defying standard leadership development guidance, which encourages deep self-reflection into strengths and weaknesses, this book shows that the most effective way to change is through action, not analysis, and by learning from experience, not introspection.